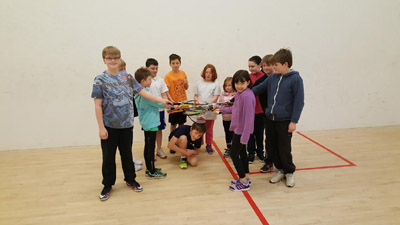 We offer junior squash in Chippenham at the Olympiad on Saturday mornings (in term time).
Improvers/intermediates run from 9.40am to 10.40am. Then we do beginers from 10.40am to 11.40am.
Costs are £7 per week or £30 for a six week course (payable on the first week).
The courses are run by Alistair Graham who can be contacted on 07825 086150 or email him at alrjgraham@gmail.com
Recent News
One of our players, Josh Bailey, went to the Wessex Ranking Tournament on Sunday 20th September in Salisbury run by Paul Chaplin and did brilliantly. He won 6 out of his 7 matches in his box and qualified for the top box with the 14/15 year old players. He won one match 8-3 8-4 and came 6th overall out of 8. Managing also to take 4 points off the older boys in each game – he was fearless!
Here is the photo of him afterwards with the hugest smile and his winnings! Well done Josh!